---
What We Do:
•
Installation, setup & configuration of software and computers
•
Repair of computers, LCD projectors, printers and other
peripheral
devices
•
Study Island, Destination Reading,
RenPlace
,
LunchBox
,
LibraryPro
, etc.
•
System website (each school maintains
its website)
•
All State Reporting- FTE, Student Record, etc.
Click HERE for a more detailed description of the technology department's responsibilities
---
Technology Department Implements Helpdesk
In an effort to increase productivity, the FCS Technology Department has implemented a helpdesk system for all schools. The system is easy for staff members. They simply submit all requests to helpdesk@franklin.k12.ga.us. The staff member will receive periodic notices regarding the status of his or her ticket. This system will also allow the technology department to begin building a database or knowledgebase of issues that occur in the system.

Update- the FC Technology Department Helpdesk has answered over 17,000 tickets since its inception.
2016-2017 Ticket Data
| | | | |
| --- | --- | --- | --- |
| School | Total Tickets | % Answered in one day or less | % Answered in one week or less |
| CES-I | 629 | 71% | 89% |
| CES-P | 434 | 63% | 86% |
| LES | 404 | 78% | 89% |
| RES | 334 | 73% | 90% |
| FCMS | 589 | 63% | 90% |
| FCHS | 643 | 63% | 82% |
| CO/Summit/Trans | 154 | 75% | 92% |
__________________________________________________________________________________________________________________________________________________________________________________________________________________________________________
The Franklin County School System has been working hard to improve technology in our schools. In the past four years, our BOE has approved over one million dollars of new technology and technology upgrades. These improvements include:
• Adoption of the GRASP program for elementary school students
• BYOT Initiative at FCMS, FCHS, and LES
• New Mac labs in each elementary school (30 each)
• Upgraded wireless at FCMS (to prepare for BYOT)
• Updated 3 PC labs at FCMS (30 each)
• 20 new Smart Boards (now in all homerooms K-8)
• 10 new projectors (now in all homerooms/general classrooms K-12)
• 2 new iMacs per homeroom (K-5)
• 8 new iMacs in each elementary media center
• Updated teacher servers at each school
• Installed and implemented a new core router
• Installed and implemented a new web filter
• Installed and implemented a new email/SPAM filter
• Moved all phone lines to TruVista
• Bandwidth increased from 45 Mgbs to 500 Mgbs
• Installed and implemented new school nutrition server
• Installed and implemented SoftDocs server
• 2 new CTAE labs at FCHS
FCHS Specific
• Purchased and implemented new intercom system
• Purchased and implemented new surveillance system
• Added wifi access at Ed Bryant Stadium
• Upgraded wifi access at Ag Center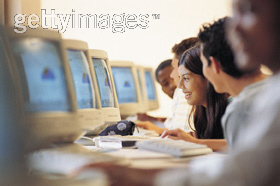 ---
MISSION STATEMENT
It is the mission of Franklin County School District to provide an environment immersed in technology for our students. We will effectively integrate constantly changing, powerful and new educational technologies in every aspect of teaching and learning. By not merely focusing on technology, but the method and content of instruction, we feel we offer a seamless and complete educational opportunity. Innovation, integration, collaboration, and evaluation are the foundations for increasing student achievement. We strive to construct an educational atmosphere by which our students will be prepared for life-long learning in a technological society